Finding Hope In Dusty Spaces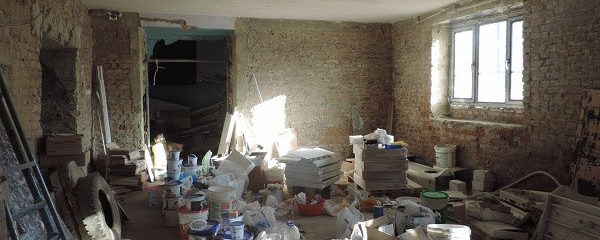 In the cold corner of a drafty room we're huddled together. Our only comforts: a small space heater, our friends, and the grace of God. It's January in Moldova, and morning prayer is about to begin.
Over the sounds of mixing cement we give thanks. At times, the dull whining of drill reaches a peak and drowns out our words. We're left to fill in the prayers of our friends.
It's just one week into the second half of the school year and we are exhausted, frazzled, and clinging to the hope that all of this disruption is not without purpose.
Several weeks ago on December 16th the staff of WMF Moldova were notified that we had only nine days to vacate the building we had called home for the last five years.
Despite the news, we pressed on with the production of a Christmas pageant, purchased gifts for the youth we work with, and took the kids caroling at a local hospital. Between all of these activities we looked for our new home, sorted and boxed EVERYTHING, and hired a moving van. Within a few days we were blessed to find a property close to the location we had previously been operating from. The new space, though unfinished, perfectly suits our needs to continue serving vulnerable children and their families. The owner of the building even agreed to let us move in on Christmas Eve before we had closed a deal. God is indeed good.
We've been here one month now and the construction is underway. When we're not praying or working with youth, we're out knocking on doors to find sponsors to help fund the remodel of our new property.
At times frustrated by our surroundings, we cling tightly to the knowledge that one day soon we'll be blessed with a new space, a new wine skin from which to poor life into our community. And the promise that this new building will become a home. We look forward to the days when we're writing not about the cold walls of an unfamiliar space but instead of the warm glow radiating from a child who feels pride in the fact that she worked hard to complete a school project.  For now, the days are long and filled with much to do. We've been jumping through hoops to get connections to water, electricity and gas lines. The work seems constant. Their is always another classroom to clean, furniture to dust, and something to arrange or re-arrange.
We're all tired, and pushed out of our comfort zones, but the most important thing is that we are hopeful. What keeps us going, is the hope that all of this disruption isn't without purpose and the feeling that the children are right here with us and so are you.
Share this story