Holy Wounds (As Featured in The Cry)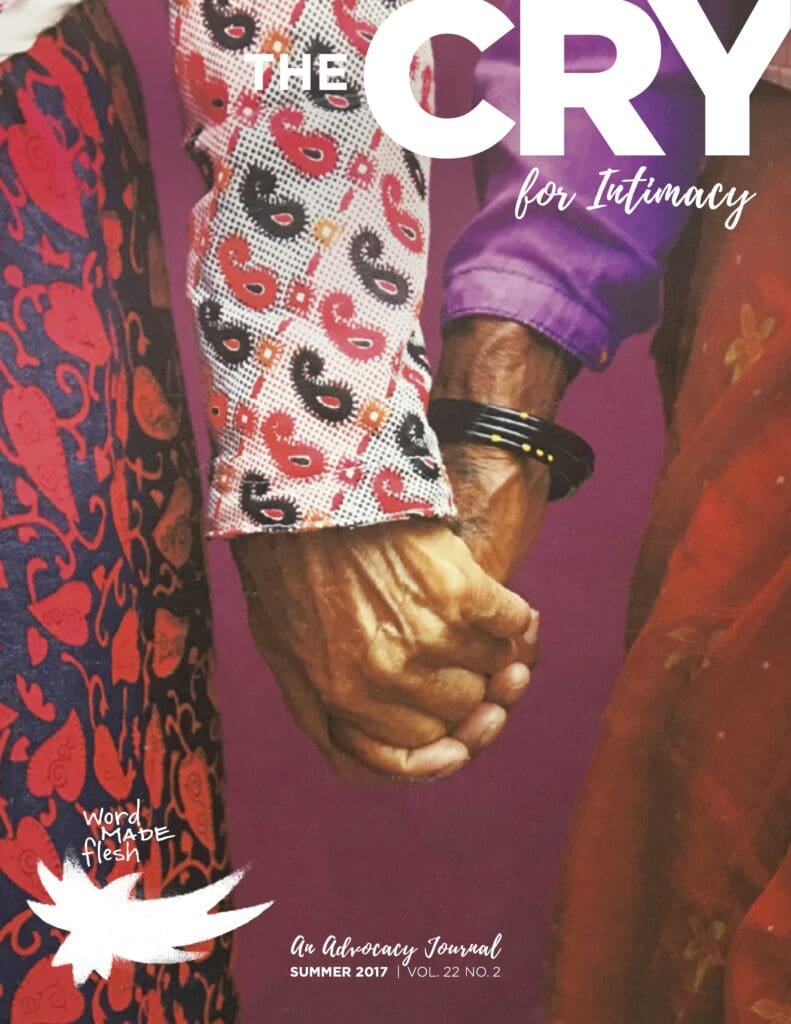 Now Thomas (also known as Didymus ), one of the Twelve,
was not with the disciples when Jesus came. So the other disciples told him, "We have seen the Lord!" But he said to them, "Unless I see the nail marks in his hands and put my finger where the nails were, and put my hand into his side, I will not believe." A week later his disciples were in the house again, and Thomas was with them. Though the doors were locked, Jesus came and stood among them and said, "Peace be with you!"Then he said to Thomas, "Put your finger here;see my hands. Reach out your hand and put it into my side. Stop doubting and believe." Thomas said to him, "My Lord and my God!"
The first time I went to Rwanda, I met a man in a medical ward who had a tunneling wound that went from his outer thigh all the way to his femur. The nurses and I spent at least an hour a day pulling out gauze from the site and repacking it with a clean dressing. While the process was painful and often met with a scowl from our patient, all parties endured the daily procedure with hope that with the careful care of the wound, one day it would be nothing but an intense scar.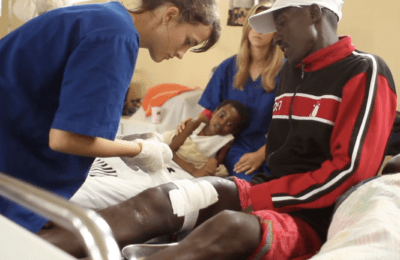 Ever since this experience I have found wounds to be particularly fascinating. Maybe that is a morbid thing for a person to admit, but maybe that's also why I love being a nurse. To me there is nothing more sacred then being a part of the slow restorative process of which the body is capable. God did indeed create something beautiful and good when he designed our human bodies. Our bodies are sturdy, and fragile, complex, and incredibly simple all in the same breath; they are capable of so much restoration. This being said, sometimes it is nearly impossible to heal without allowing others into the painful spaces of our wounds; physical, spiritual, emotional, and mental.
Visiting WMF-Rwanda this past May with the WMF Discovery Team, this truth was made even more apparent to me while listening to the stories of two Rwandans. Sitting around a large wooden table, sharing a pot of African tea, our team listened as Alice and Emmanuel told of how their lives became intertwined during the Rwandan Genocide. Alice, who bears multiple scars from her experience, hid in the swamp during the genocide. It was there that Emmanuel andseveral others cut off her hand, took a machete to her head and left her for dead. Miraculously Alice survived.
Much later, Emmanuel, who had admitted to his part as a perpetrator, had begun to help build houses for those who had been devastated by the genocide. One day Alice decided to join the group in order to assist in the process of restoration.
Emmanuel immediately recognized her, and approaching her one day, confessed what he had done and asked Alice's forgiveness. Alice, through a deep understanding of God's grace, love, and mercy, forgave Emmanuel and they began the painstaking process of healing together. Today, they continue to tell their story to encourage others that forgiveness is possible. They share that even though the process of healing is hard it is worth it in order to live into the kingdom to which Christ has called us.
"…sometimes it is nearly impossible to heal without allowing others into the painful spaces of our wounds…"
Listening to Alice and Emmanuel, I was struck by how profoundly painful, beautiful, and intimate their story was. While many people in our current society would have chosen to never speak to one another again, Emmanuel and Alice continue to daily choose to love and forgive. They have also chosen to continue telling their story for the last 23 years. This has not been a journey for the fainthearted. It has meant continuing to recognize the ways they have wounded and been wounded. It has meant continuing to recognize their hurts. It has meant continuing to invite people in to their deepest anguish, and triumph. It has meant continuing to ask Christ to be with them, and in them, as they heal.
Wounds are by nature some of the most intimate parts of someone's heart and life. They are areas that no one has to let anyone else into, and yet this is what Alice and Emmanuel have chosen to do. They continue to say yes to the intimate process of Christ's healing and have recognized also the importance of letting others into this process as well.
As a follower of Christ, Alice and Emmanuel's story reminds me that part of our calling is indeed one of deep intimacy with Christ and one another. In one of my favorite sections of scripture Jesus invites Thomas to touch and feel Christ's hands and side. He in many ways asks Thomas to tangibly enter into the physical wounds that represented Christ's greatest fear, his greatest pain, his greatest love, and greatest triumph. These wounds were the evidence of God's great love and redeeming work in the world.
In all of this, I see that the redeemed Body has holy wounds. And in the midst of already being made perfect, Christ asks us to join Him in this intimate place of continued healing. This is a tension that I still have yet to fully understand or be able to explain, but it is one that I believe is present and important. How do we remain open and pliable; humble and honest in the face of deep hurt and tragedy? How do we recognize the pain, without letting it become all that we are? How do we invite others into our personal wounds and in doing so enter into the redeemed and resurrected life with one another? How do we recognize that despite the ways that we feel broken, we are in fact whole?
Christ invites us to enter His wounds. In this, we share in Christ's resurrection, infinite love, deep pain, and insurmountable joy. We then are able to share our deep hurt and delight with The Spirit as well and enter into the process of being whole. Like the man I met in the medical ward who day after day looked pain in the face in the hopes of healing, Christ asks that we recognize the fear that makes us uncertain of entering into our own wounds, the wounds of others, and the wounds that resulted from Christ being led to the Cross, and continue forward in faith. God asks that we lean in to these areas of our lives knowing that He is able to shine His love not just into our life, but also into the lives of others in a continual process of intimacy, healing, and transformation.
ABOUT ASHLEY
Ashley is a cardiac nurse in Boise, Idaho. Outside of work, she enjoys dancing, reading, listening to records, pottery and drinking coffee. Ashley is more than excited to be part of the passionate team at Word Made Flesh as a board member. More than anything she desires to journey alongside people of all nations and walks of life, and in doing so learn to live out the love, justice and mercy of Christ.
CONNECT WITH ASHLEY:
ashley.brown@wordmadeflesh.org
Share this story