Making a difference — "Blessed to be a Blessing" Campaign
SUMMARY OF ACTIONS IN RESPONSE TO THE COVID-19 EMERGENCY
March – September 2020
By Field Director Anna Monteviller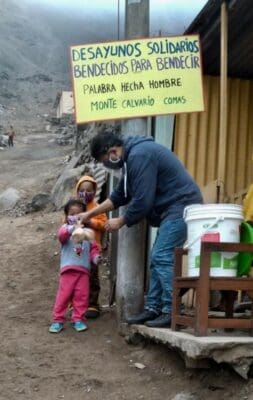 Despite the restrictions and limits of the pandemic, Palabra Hecha
Hombre (Word Made Flesh Peru) was faithful to the integral praxis of the mission and to the vision and mission by designing, coordinating, and sustaining a comprehensive response to the emergency in favor of families in extreme poverty in the capital.
The cost of these actions was covered through campaigns with national and foreign contributions, leaving Word Made Flesh Peru a percentage for administrative expenses.
ACTIONS
The "Blessed to be a Blessing" Campaign provided essential food supplies to more than 7 neighborhoods in 7 districts. 250 families were supported with the collaboration of managers in each area. To date, assistance is still being provided to families with extreme need alongside spiritual support, listening time, and basic orientation for families to be able to access the government bonds.
The artisan economic enterprise was promoted five artisan women with the campaign "Angelitos Solidarios."
The "Solidarity Breakfast" Campaign was evaluated and proposed for three months (June to August) in two areas of extreme need (Comas and Pachacutec) with the leadership assistance of two married couples. In total more than 100 children and some elderly people were supported at this time with nutritious breakfasts in each area.
The Biblical formation for the leaders of "Solidarity Breakfasts" has continued as they attend the ETE virtual course. A financial offering was also delivered to the leaders of Comas and Pachacutec at the end of the three months of uninterrupted work in the campaign.
The area in Monte Calvario was visited and a face-to-face meeting was held with the two leadership couples.
Prayer coverage was coordinated from the prayer requests in the prayer boxes, and a faithful partner group, Praying for You, was led by the counselor and associate Martha Mendoza.
It was possible to establish a partnership with the church, Iglesia Alianza Cristiana y Misionera de Pachacutec. The pastor of the church, Pastor Carlos Urteaga, already visited the area and is in communication with their leaders and the community of Puerto Mar in Pachacutec.
It was also possible to establish a partnership with the churches Iglesia Misionera La Semilla and the Iglesia Misionera Gracia y Paz who have been leading the Bible school for children in Monte Calvario, Comas. Pastor Rino Beretta and teacher Carolina Céspedes have been leading the Bible school.
It is pending to coordinate and establish a partnership with Iglesia Misión Bautista Internacional Luz para las Naciones in Comas to achieve pastoral coverage for the families in Monte Calvario.
WMF Peru continues to communicate, dialogue, and listen with all aid channels involved at this time, and continues to provide occasional guidance on new State provisions and support for families as well.
We want to thank each and every one of our friends involved in the distribution of aid and food preparation as well as the leaders who have joined in to serve the neighborhoods in Comas and Pachacutec.
Share this story