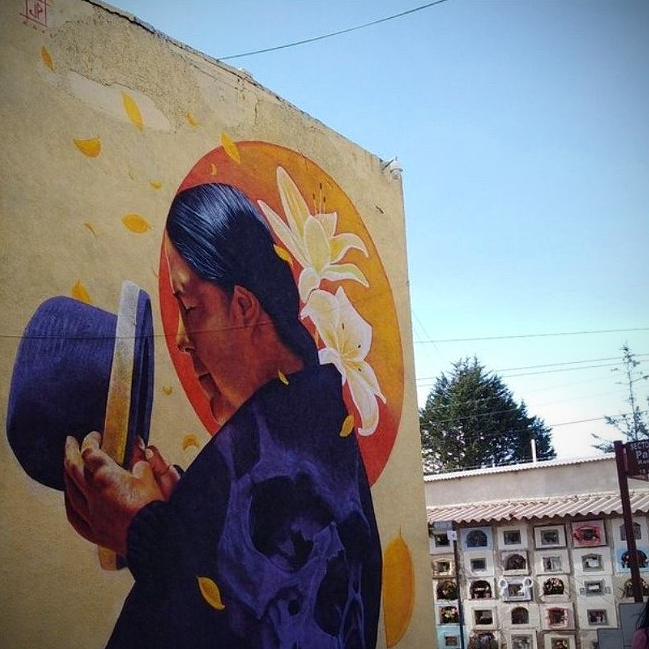 Today on All Saints' Day we remember the deceased. Vivi* left us and her two young sons earlier this year.
Born in the south of Bolivia, Vivi's mother died before she even knew her. With an inattentive father and struggling in rural poverty, Vivi left Tarija for La Paz at 17 with hopes for a better life. But she was completely unprepared for the city. She didn't know anyone, had little education, even fewer job skills, and very little money to buy food or pay rent. A friend suggested that she could make money with her winning smile and took her to a brothel, where she worked for 35 years.
Vivi learned about Word Made Flesh through outreach visits, and became an active participant in the ministry center. Her life on the streets resulted in two sons, but she received no support from the fathers. Over time, we lost contact with her, as often happens when working with vulnerable people.
Life trudged along for Vivi and her boys until the beginning of this year, when she was hospitalized. Doctors couldn't diagnose her condition, and so days turned into months. Meanwhile, with no other family, 14-year-old Ernesto* was left to care for his eight-year-old brother Diego* and find food. In this time, he also learned of his mother's reality in prostitution, leaving him tormented, confused, and further strained in his relationship with his mother.
In desperation, a friend from the streets reached out to us seeking help for Vivi and her struggling family. When we met with Ernesto and Diego in their home, we found numerous dolls with strings tied around their neck, immediately alerting us to the boys' confusion and depression, as well the teen's suicidal tendencies. We immediately provided food and created plans ensuring safe and stable housing with a caring adult and psychological intervention.
Vivi's physical condition continued to deteriorate, but her spirit improved as she reunited with a loving community. Able to relax with her children safe and cared for, she focused on herself and began exploring the Bible, eventually accepting God's deep love for her. In March, the Lord called her home.
Vivi's death has been especially difficult on her boys, but both are accepting help from Word Made Flesh. Diego has become involved with the children's program and receives grief counseling. Ernesto initially self-medicated his pain with drugs, but has since re-enrolled in school, engages in counseling sessions, and advocates for his little brother's well-being. In what we feel is a final blessing from Vivi, her death has spurred a stronger relationship with the sex workers union of Bolivia (OTNB). After witnessing the impact on the lives of this family, the union has now invited us to lead STI-prevention workshops for all brothels in El Alto and soon La Paz.
Today, we celebrate Vivi. She may no longer be with us physically, but her courage, her family, and her legacy remain. She is now free.
*All names have been changed in respect to the family.
Share this story