Aaron Strumpel – Artist Ambassador
[section bg="#ddd" title="" parallax_text="0″ parallax="0″ margin="40″]
[row]
[col span="1/4″ animate="fadeInUp"]
[featured_box title="" img="https://wordmadeflesh.org/wp-content/uploads/2015/11/CloseUp-No-Bars-400×170.png" img_width="" pos="center" link="https://wordmadeflesh.org/support-a-staff-member/?slug=wmf-support-account-aaron-strumpel"]
Invest in our communities and Aaron's journey
[button size="medium" style="white" text="Donate Now" link="https://wordmadeflesh.org/support-a-staff-member/?slug=wmf-support-account-aaron-strumpel"]
[/featured_box]
[/col]
[col span="3/4″]
We're are thankful to have Aaron Strumpel as an Artist Ambassador with us at Word Made Flesh. Aaron has been a friend of our organization and communities for many years, and we're excited for his partnership with us and us with him.
Aaron will be actively raising support to facilitate his journeying to our communities around the world to encourage them through worship through music, and through sharing in relationship together.
Please read below for more about Aaron's ministry with us at Word Made Flesh and at large. After learning more about Aaron and WMF, please consider donating to aid Aaron in being able to come alongside and encourage our communities.
[/col]
[/row]
[/section]
[row]
[title text="More about Aaron" style="bold_center"]
[col span="1/3″ ]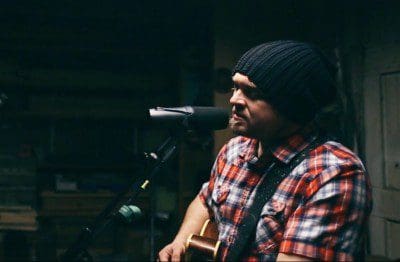 [/col]
[col span="2/3″ ]
Singer-songwriter and Enter the Worship Circle artist AARON STRUMPEL is extremely prolific and has six solo full length albums, five EPs, six collaborative albums, two collaborative EPs, and numerous remixes to his resume.
[/col]
[/row]
[row]
[col span="2/3″ ]
Aaron has shared the stage with a wide variety of artists including John Mark McMillan, Over the Rhine, Josh Garrels, Jason Upton, United Pursuit Band, Loud Harp, Listener, Jeremy Riddle, Ascend the Hill, Kim Walker, and many others. His tours have taken him through 45 states and internationally to Rwanda, Uganda, Gaza, Israel, Haiti, and much of Europe, Central and South America. He has played everywhere from the New Orleans Super Dome to a street corner in a violent Brazilian favela; from a chapel at the Harvard School of Divinity to a yard outside of a make- shift medical clinic in Gaza.
Over the years, Aaron Strumpel has been able to partner with communities that he's met and with whom he's felt deeply connected.  Word Made Flesh has become one of these communities and after having encountered them at Missions Week at George Fox University, Aaron was invited to lead worship at several large WMF staff gatherings and yearly Holiday shows. He's visited the communities in Peru and Buenos Aires and gotten to know most of the U.S. missionaries.  This new season at WMF marks renewed interaction and collaboration for Aaron and we are excited to present his musical work here on our website!
[/col]
[col span="1/3″ ]
[section bg="#555″ title="" padding="20px 30px 0px 30px" dark="true" parallax_text="0″ parallax="0″ margin="30px"]
Book Aaron to come to your event!
[divider width="full"]
[button size="large" style="secondary" text="Tour information" link="http://www.aaronstrumpel.com/tour/" target="_blank"]
[button size="large" style="primary" text="Booking info and contact" link="http://www.aaronstrumpel.com/contact/" target="_blank"]
[/section]
[/col]
[/row]
[section bg="#ddd" title="" padding="30px 40px 30px 40px" parallax_text="0″ parallax="0″ margin="90px"]
[title text="Aaron's Videos" style="bold_center"]
[row]
[col span="1/2″ hover="focus" ]
[/col]
[col span="1/2″ hover="focus" ]
[/col]
[/row]
[row ]
[col span="1/2″ hover="focus" ]
[/col]
[col span="1/2″ hover="focus" ]
[/col]
[/row]
[/section]
[title text="Aaron's Albums" style="bold_center"]
[row ]
[col span="1/4″ hover="focus" animate="fadeInUp"]
[/col]
[col span="1/4″ hover="focus" animate="fadeInUp"]
[/col]
[col span="1/4″ hover="focus" animate="fadeInUp"]
[/col]
[col span="1/4″ hover="focus" animate="fadeInUp"]
[/col]
[/row]
[row ]
[col span="1/4″ hover="focus" animate="fadeInUp"]
[/col]
[col span="1/4″ hover="focus" animate="fadeInUp"]
[/col]
[col span="1/4″ hover="focus" animate="fadeInUp"]
[/col]
[col span="1/4″ hover="focus" animate="fadeInUp"]
[/col]
[/row]
[title text="Aaron's Instagram" style="bold_center"]
[ux_instagram_feed username="aaronstrumpel" photos="10″ text="Show more.."]