Word Made Flesh lives and serves among the dying. We remember our friends who have passed on and continue to carry their love and their stories in our heart. Please take a few moments to read the memorials of some of the WMF children and friends who have died.
We pray that their deaths would provide us an opportunity to remember others like them who will die today and to respond in love on behalf of those who should not needlessly die tomorrow.
[accordion]
[accordion-item title="Remember Jessica"]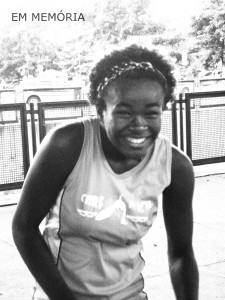 Friend of Brazil staff
1993 – 2010
Cause of death: Murder
Jessica was a girl always filled with joy, wearing a contagious smile. Mostly living on the streets, she often returned to her mother's home in a favela. At the time of her death, she was ensnared by drug use and was not well. Accused of committing a crime, she was murdered by gang members in the favela, where justice is taken into the hands of the powerful and is quickly administered. Her death was brutal and left no opportunity for a dignified burial so that she could be mourned by her loved ones. WMF staff members grieve with her community.
[/accordion-item]
[accordion-item title="Remember Puja"]
Friend of Kolkata staff
Date of death: December 18, 2009
Cause of death: Complications from HIV/AIDS
Puja Chakrobarty was not unfamiliar with suffering and pain in her life. She was trafficked to Delhi at the age of 14, thrown in jail by a customer, and, after returning to her village in West Bengal, forced to begin working in the sex trade in Kolkata. WMF staff met her during their visitation times and, through the years, built a close relationship with her and her children.
Puja had a strong spirit, and although she was unable to see the potential in her three children, they would now make her incredibly proud. They are paving a new way for their family through their admittance in English medium boarding school, and their hard work to study and learn.
Puja passed away from health complications because of her infection with HIV/AIDS and died December 18, 2009, in her village with her mother by her side. She is survived by her two sons, Akash and Bishal, and daughter, Guria.
[/accordion-item]
[accordion-item title="Remember Purnima"]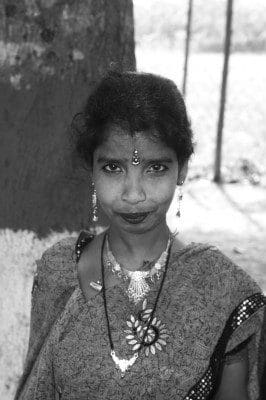 Purnima Haldar was a joy and light to all of us at Sari Bari. Her life testifies to the power of community. She joined the Sari Bari family in December 2010 and was in her third month of training when she was murdered by a customer April 7, 2010. She was killed just a day before the celebration of her first completed blanket. Purnima was an example of determination as she fought her own self-doubt and uncertainty to journey toward freedom.
On the evening of her cremation, Purnima's body was accompanied to the river by her Sari Bari family as well as her mother and son. One of the Sari Bari ladies commented that Purnima would have been encouraged to know how incredibly loved she was by so many people. Purnima was wrapped in her Sari Bari blanket as a marker of hope and the freedom she received in the welcome embrace of Jesus. Our community ended the cremation ceremony with prayers and the hope that one day we will see Purnima again, whole and restored. We hope, believe and pray for beauty out of the ashes of our loss of Purnima. She is deeply missed, remembered and loved. She is survived by her son and mother.
[/accordion-item]
[accordion-item title="Remember Capital"]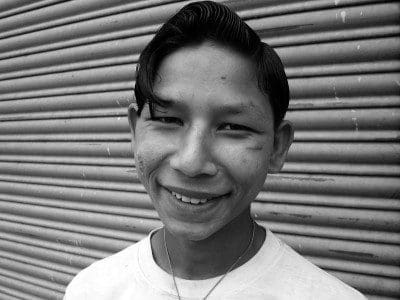 Friend of Nepal staff
Date of death: Jan. 19, 2009; Age 21
Cause of death: Complications due to AIDS
Jeebas "Capital" Thapa was a beloved friend of WMF Nepal for many years and a member of the Kripaa Sadhan family. Known for his deep love for Jesus and desire to love and serve the Lord, Capital always knew how to bring a smile to our faces. Over the years, WMF staff walked with our brother Capital through many stages of his life, journey with Christ and struggles with drug addiction. Capital had a deep longing to be used by God to help others in their struggles in life, and to be used to serve the poor himself. After struggling for several years with drug addiction, Capital passed away at the age of 21, due to complications with AIDS. We are so grateful that Capital is now with his loving Savior in heaven for eternity.
[/accordion-item]
[accordion-item title="Remember Jeferson"]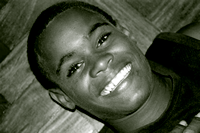 Close friend of WMF Brazil Staff
Date of Birth: Sept. 3, 1989
Date of Death: Sept. 2, 2005
Cause of Death: Gunshot wounds
Two years ago, I met a young man named Jeferson. He had just turned 14, and was living on the streets of Rio. He soon became a big part of my life; seeing his playful grin and hearing him laugh as he yelled my name across the square were signs that it was going to be a good day.I remember sitting with him on Mother's Day. I was asking some of the boys questions about their mothers – things they liked about them, things they missed, fun memories, etc. We laughed and got sad, and a few of the boys asked me about my mother who died when I was young. They wanted to know how she died and how I felt about it. Jeferson didn't say much. He just sat quietly next to me. I answered their questions as best as I could and was touched when one of the boys sympathetically patted Jeferson and me on the shoulder and said in a soft voice, "It's hard to lose a mom." With those words, and the compassionate touch, Jeferson began to cry. So we sat on a moldy, falling-apart couch with our arms around each other's shoulders, and we cried and laughed, and remembered.
I remember eating spaghetti and pizza with him (his favorite meals). We buried each other in the sand at the beach. We played card games and board games and computer games. We watched Batman together. We teased and joked and laughed. We prayed together. We sang together.
When he was over at our house, he heard one of the Servant Team members sing the worship song, "O Praise Him." Jeferson loved to have me sing it. "Sing that song – you know …" So I would, and when I reached the chorus, he would join in. Somehow, I feel he's still singing.
Friday, Aug. 26 was his 16th birthday. I saw him the day before his birthday, and we made a plan to spend the day together on Saturday. I was supposed to go downtown and pick him up in the morning. From there we were going to go to the beach for a swim, watch a movie, then go back to my home and have pizza and a pie that Jenna (WMF staff) baked for him. As I walked away that Thursday night, I yelled to him "Happy Birthday! Don't forget! I'll see you on Saturday …" But I didn't see him – that night was the last time I ever saw him.
He didn't show up Saturday. I couldn't find him. None of us saw him the next week either. Wednesday, Jenna (WMF Brazil staff) was downtown and ran into Monique and Very, Jeferson's sisters. They had bad news. Jeferson was dead. He had been killed – another victim of Rio's senseless drug wars. He was killed because of where he was from and who his friends were, and because he ventured into the wrong neighborhood. Jeferson lived in a CV-affiliated favela and was invited to a party in an ADA-affiliated favela, with a group of friends. They went, not realizing it was an ambush. Jeferson, along with four of his friends, were killed.
The funeral was the day after we heard the news. As I stood beside the coffin, the reality of Jeferson's death fell upon me. Looking at him lying there, covered in white flowers, a bruised lump on his forehead, his eyes closed, his skin cold to the touch, I wept. He wasn't going to wake up. I wept over lost opportunities. I wept because I missed my friend. I wept because he was alone and in pain when he died. I wept because I had not been able to save him. I wept for the pain of his sisters and his friends. I wept.
In his book, The Prophetic Imagination, Walter Brueggemann states that tears and mourning are acts of prophetic criticism, because they emphatically declare that all is not right with the world. Something has happened that should not have happened, and tears are our acknowledgement of that. They are the starting point from which we must travel on our search for hope. And that hope, though hidden in the most unlikely places, still remains.
I know Jeferson was washed in the blood of the Lamb. And I cling to the promise for him:
Jeferson is before the throne of God and serves Him day and night in His temple; and He who sits on the throne will spread His tent over Jeferson. Never again will Jeferson hunger; never again will Jeferson thirst. The sun will not beat upon Him, nor any scorching heat. For the Lamb at the center of the throne will be his shepherd; He will lead Jeferson to springs of living water. And God will wipe away every tear from his eyes (adapted from Revelation 7).
[/accordion-item]
[accordion-item title="Remember Tatiana"]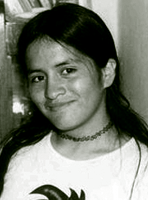 Close friend of WMF Peru Staff
Cause of Death: Drowning
I stood beside Tatiana's hospital bed and said goodbye to my precious friend and treasured sister. Her hand in mine, I kissed her face as I told her how much she was loved and how thankful I was to know her. I whispered to her of the freedom, love, joy and belonging she would know in heaven as the beloved daughter of the King who knows her fully and loves her perfectly.When I said goodbye, I could not stop kissing her or let go of her hand, knowing that it would be the last time I saw her alive. It was the hardest goodbye I have ever said because I was not ready to say it. I love her so much.
Tatiana never awoke from the 5-day coma she slipped into after nearly drowning in a river that runs through Lima. She died only a few hours after I said goodbye to her. She left the place of her suffering and was welcomed into the place of her rejoicing.
Tatiana was 19 years old when she died, and had a 19-month old son. Though I, and many others, ache with the pain of losing her, I testify before God that He is good and that I am thankful. I am thankful for having known Tatiana, for having been blessed with a very special friendship with her, for having been able to know her intimately and to have shared so much with her, both joys and sorrows.
As I think about our final goodbye, I know how appropriate it was; for during the time that I knew Tatiana, I received countless hugs and kisses from her. They were the good kind of hugs that have so much love and meaning behind them. She held my hand so many times, as we walked or talked; she had the gift of showing her love through touch.
The tears that fell and bathed her face as I kissed her were appropriate because she never held back tears. Tatiana would cry and laugh at the same time as she opened her heart and shared with me.
Tatiana could light up a room and probably all of Lima with her smile and laughter. She lived and loved fully; she didn't hold back. She loved and forgave those who had wronged or hurt her with an amazing gift of grace that astonished me.
Tatiana could be outrageous and obnoxious in a way that could frustrate and make me laugh at the same time. She remembered those she loved, calling them on their birthdays and holidays even if she hadn't seen them in years. There was a time when she would call me every day just to chat and fill me in on her day if she hadn't seen me in person.
Tatiana loved the people in her life, and I know that the Lord must have looked upon His daughter with joy while she was on earth. How much more He is enjoying her presence now. One of the street kids told me that if we cried, Tatiana would be sad in heaven. I replied, "She isn't sad there, you know. She is dancing, dancing in the delight of the Lord."
Jenny, a worker from another organization in Lima and a special friend of Tatiana's, was visiting her in the hospital the morning before Tatiana lapsed into a coma. Tatiana became restless, wanting to communicate something but unable to speak because of the tube in her throat. Jenny gave her a pen and paper, expecting her to write of her pain, her fear, her desperation. Tatiana wrote faintly, "Thank you for everything."
Thank you for everything my dear, sweet Tati. I miss your laughter, hugs, squeezes and tears. I miss our long talks, your phone calls and visits. I miss seeing your beautiful face and loving smile. I will always carry your love in my heart.
It was indeed a delight to love you and be loved by you. Dance, my friend. You are free.
Please remember to pray for Tatiana's little boy, who will grow up without his mother.
[/accordion-item]
[accordion-item title="Remember Esther P. Noel"]
Beloved child of WMF Chennai Home of Happiness
Date of Birth: unknown
Date of Admission: November 29, 1997
Date of Death: December 9, 1997
Cause of Death: Malnutrition
Esther was found abandoned on the beach soon after her birth. She was sheltered under the care of WMF for only a little over a week before she died. Esther came to the home suffering from malnutrition and cerebral palsy, and is believed to have been HIV+.Baby Esther has become the seventh cherubim to enter into the Holy Presence of the Lord Almighty as she peacefully passed into eternity at 8:00 p.m. Dec. 9. We were taken by surprise at her radiant smile just before breathing her last breath without any pain or discomfort. The smile on her face seemed to convey her gratitude for the service we have extended her.
[/accordion-item]
[accordion-item title="Remember Abraham"]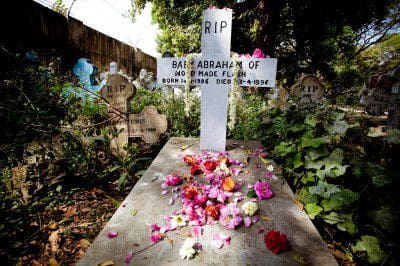 Beloved child of WMF Chennai Home of Happiness
Date of Birth: January 1, 1996
Date of Admission: April 17, 1996
Date of Death: June 23, 1996
Abraham's mother was an orphaned woman who became pregnant after being raped at the sewing shop where she worked. Having no family to turn to, she contemplated having an abortion, but did not follow through with it. A social worker had compassion on the woman and cared for her during her pregnancy and delivery. Soon after giving birth to Abraham, the mother and child sought shelter in the WMF children's home. Abraham's mother was given some sewing work to do for the home, while Abraham received much needed health care and attention. Abraham came to the home very ill, suffering greatly with diarrhea and vomiting. He passed away just two months after joining the WMF family.
[/accordion-item]
[accordion-item title="Remember Prema"]
Beloved child of WMF Chennai Home of Happiness
Date of Birth: August 20, 1995
Date of Admission: November 1995
Date of Death: November 29, 1995
Cause of Death: Malnutrition/HIV
Prema's name means "love." She was abandoned in a government hospital. Because she was HIV+, no one wanted to care for her, not even the nurses and doctors. When she was brought to WMF she weighed 1.5 pounds and suffered greatly from starvation. Prema and all the WMF staff who cared for her fought daily for her life. Patrick Samuel, Project Manager, even gave his own blood for her life. But after 11 days, Prema's emaciated body could survive no longer. She took her last breath on November 29th, 1995. Prema's name is appropriate because through her life, God taught many of us how to love.
[/accordion-item]
[accordion-item title="Remember Suryakala"]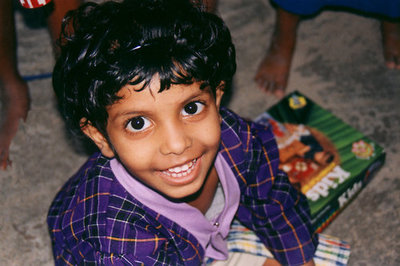 Beloved child of WMF Chennai Home of Happiness
Date of Birth: May 15, 1996
Date of Death: April 20, 2006
Cause of Death: Complications due to AIDS
Although much smaller than other children her age, Suryakala, also known as Surya, held a huge place in my heart. She made a tremendous impact on me and everyone who met her. Her soft, quiet voice was sing-song perfect. Her eyes were beautiful and full of life. Her smile was tender, innocent and pure. Although her body was terribly weak, Suryakala embodied strength.
Suryakala died due of complications from AIDS. Phileena and I last saw her just weeks before her death. She looked great. The antiretroviral prescription that she was taking had helped her so much. I remembered clearly how sick she had been and celebrated her dramatic health improvements. I hoped for the future that could be hers, and grieved the childhood she had lost. Just weeks after our visit with her, she took a drastic turn for the worse. She died April 20, 2006 in peace and without pain.
I met her seven years earlier, when she was just 3 years old. She had tuberculosis, and I remember holding her frail body against my chest to try and keep her warm; every time she coughed, it shook her entire frame. She was so weak she could hardly hold her head up. I left Chennai that time, fearful that I would never see her again, believing that her sickness would overcome her. To my surprise, she recovered and not only did she recover, but she seemed quite healthy, and her little body began to grow.
Phileena and I spent much time with Suryakala each time we visited India.
She had lost her mother to AIDS; her father was very sick with AIDS when he brought his two daughters to our childrens homes in Chennai. Just a couple of years ago, Surya's father also died from AIDS. Phileena and I were in Chennai at the time and spent as much time as we could with Surya and her older sister. During that time of grieving and mourning with them, my love for these two young girls deepened.
I count it one of the greatest privileges of my life to have seen Surya grow from an undernourished little girl to a thriving 9-year-old, grieving with her during the loss of her father and making memories that are now cherished treasures.
I imagine her now, full of health and life in the loving arms of God. I imagine her now, surrounded by the countless other children whose lives have been tragically cut short. I imagine her now, reunited with Esther Noel, Ragini, Abraham, Baby Sarah, Prema and the other children from her childrens home who have also gone to be with the Father.
Today there is a small, white-washed concrete cross that bears her name. It rests with her remains in a graveyard in Chennai, India, surrounded by her brothers and sisters, other children who we have had the honor of loving.
All those little white crosses are a memorial to us they remind and compel us to continue the fight for the lives and lost childhood of the nations.
In Surya's life, she was perfect in her uniqueness. In her death, she lives on as symbol of hope for the millions of other children like her who suffer today. And for us, Surya's death is a prophetic reminder of the thousands who will fall without a tear children who wont have a grave to visit and friends who mourn their deaths.
[/accordion-item]
[/accordion]