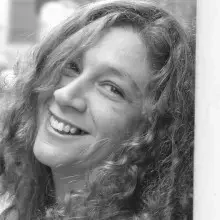 Esdrianne Cohen was born on the 3rd of January in the Tijuca neighborhood in Rio de Janeiro, Brazil. She was raised until age 13 by her paternal grandparents in Rio de Janeiro state and Capanema, a city in the Brazilian state of Pará. In their homes biblical, Christian teachings were rigidly taught, and she accepted Jesus as her savior when she was a young girl.
At age 13, Esdrianne moved to live with her mother, where she was introduced to another side of life, and she rebelled against how she had been raised. She became involved in previously prohibited activities, like spiritism (Macumba). After the suffering that came with experimenting with this style of life, one day she decided to change her life. After hearing a preacher on television, Esdrianne remembered her past and the teachings of her grandparents, and she asked God for a second chance. Together with her daughter, Isabella, Esdrianne began a new life. In 2003, at work, she was introduced to Projeto Vidinha, which is a philanthropic institution that cares for needy children. Esdrianne fell in love with the work with the children and after a few months, she became a volunteer there.
In 2004 Esdrianne discovered Word Made Flesh through the work at Projeto Vidinha. Her relationship with WMF developed until in 2006, she began to assist with their street outreach. In January of 2007, she became the first Brazilian to become part of WMF Brazil. The work on the streets, is for Esdrianne, "very gratifying. Since I was a child, my family always taught me the lesson that loving one's neighbor is fundamental to obeying God's will. And that's why my heart overflows with joy to help people." Esdrianne is the coordinator of Projeto Ester, which focuses on women and their children. "I've seen the hand of God in the lives of these women and I am happy to know that they are opening their hearts to the Lord."
Today, Esdrianne is the national director and coordinator for Word Made Flesh Brazil. She lives simply to serve and obey the will of God.