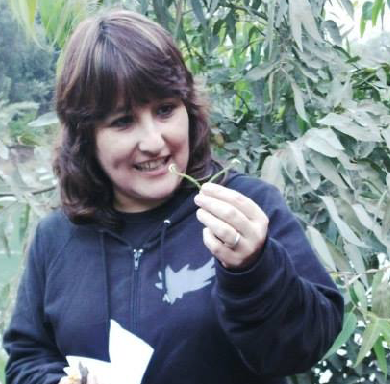 Anna Myriam Monteviller Pino was born in Lima, Peru.  She grew up in Christian home and continues to live with her mother and younger brother.  She is licensed in tourism having studied Marketing and Publicity.   
She loves wood carving, camping, hiking, going to movies, and highly values her friends. 
In 1998 she met and became friends with the Directors of WMF Peru who encouraged her to serve among the most vulnerable and at risk members of society. In 1999 she traveled to Romania for a field visit to learn more about a different reality of work among the poor. She believes that God gave her a prophetic and evangelistic call to the church and to God's people to denounce and exhort them towards following Jesus' love and care for the poor.  She has participated in and worked with the Word Made Flesh Peru community for over 9 years, first as the Vice President of the board of  "La Palabra Hecha Hombre" and director of the Job House. She went on to serve as Programs Director and most recently as the National Director.
CONNECT WITH ANNA | anna.monteviller@wordmadeflesh.org
Share this story