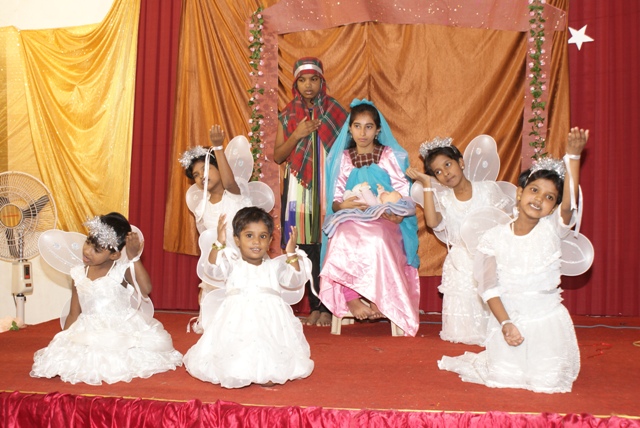 Oh how she loved it! It was just an ordinary pair of slippers. The kind with a flat base and Y-shaped plastic molded straps and a printed cartoon on the sole. She held it close to her and kept saying how lovely it looked. The sparkle in her eyes and the smile dancing on her face where big enough to melt any heart. The letters L and R were marked on the soles with markers to help her fit her feet in the right ones. She tried them on and took them off for safe keeping.  This could have been just any child's reaction, except for the fact that Sasi (Name changed), was being given her very first pair of slippers!
Sasi was three years old and she came along with her younger infant sister Sumi of 15 months. They had lost their mother very early, and the father, who had a daily wages job, was not sure of keeping both the little ones safe. They joined our family of other elder sisters (accas) and elder brothers (annans). Each minute with these sweet children seem to unravel deep dark secrets that you would not like to know. Neglect, abandonment and probable physical abuse flashed before as I tried to assess a bruise there and a cut here and that dark stripe there.
I could piece together the untold story of these infant girls, which is common in most of rural India. Since the rural hometown from where these two little ones came from, generally looks at girls as huge burdens, Sasi (the elder one) in particular must have bore the brunt of family's displeasure over her gender and was met with unexpected responsibility of having to take care of her sister after her mother's passing. Sasi and Sumi's existence would have been considered a nuisance and they would have been mostly left to fend for themselves. They likely ate whatever is leftover and starved whenever the men of the family ate most of the food.
Their father sat stone faced, signing some papers as the two infants giggled, unaware that soon they would be admitted into a big family and would be living in a new environment. There was a quick good bye, with not so much fuss, which indicated they were used to being left in the care of strangers while their father went to work. Their belongings were few. A couple of crumpled dresses and underwear, a water bottle and a baby bottle for milk, with not so much as a drop of milk to suggest that the infant was recently fed. Just gathering them into my arms was so therapeutic. I knew that they would have never been held with love and that they would soon get used to our open arms. It crushed pieces of my heart to think that no one would have held them so, bathed them, kissed them or dressed them with gentleness and love. Knowing that such precious little ones were not provided with the very basics of love and life was too much to comprehend.
I had my work cut out. Warm baths for both. Clean clothes to wear. Soft towels and bed linen to pamper them and toys to snuggle with. There was one thing which disturbed me lot. It was the fact that Sasi was barefooted. She had walked over rugged paths from her home town, travelled in the city bus and walked on the tar roads of the city all barefooted to reach our home. One of the very first purchases I did for Sasi was a tiny pair of slippers. She had been talking about having a pair of her own, when she saw all the other children in the home wearing theirs. When I handed over her pair of slippers, she jumped up and down with pure delight of having received something very new for the very first time. Her reaction would have been just normal, had it not been for the fact that she had never been bought a pair of slippers. It disturbed me deeply to realize that infants could not have enjoyed these simple pleasure of basic needs like footwear, food and clothes.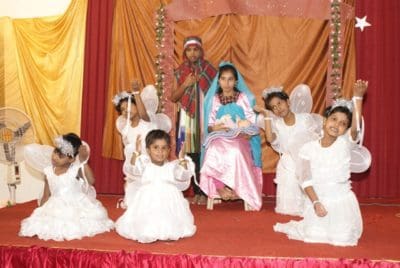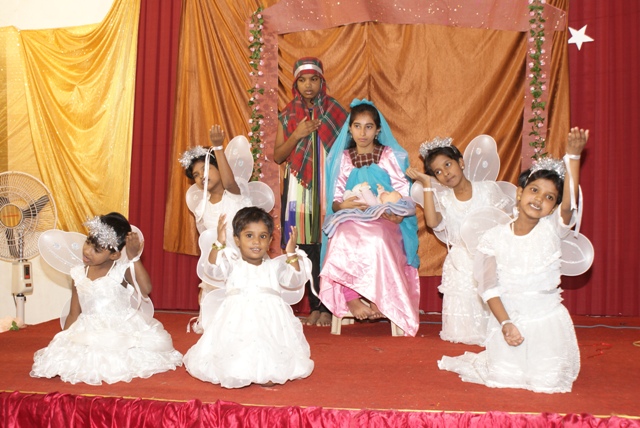 We continued to ooh and ahh over her beautiful slippers while I said to her that I like her slippers very much and that I was sure they would look lovely when she walked with them. She just looked deep into my eyes and smiled the most brilliant smile. I asked her if she liked them and she responded, "I love them." It's difficult to describe what happened next. She took her brand new slippers, box and all, and gently placed them on my hands and said, "You should have these because you love them so!" I was astonished. I was expecting a little child deprived of basic needs to grab the gift, mumble a quick thank you and make a dash with her precious gift. But here was I encountering something sacred, beautiful and deep. She simply looked at me and said, "Take it, it's  all yours!" It was like a dam breaking loose within me. It is not every day I encounter something so sacred as this giving. It felt as though something warm and squishy was being poured without measure, deep into my soul. I did not find words to reply and just took her and held her close. I told her she was the best gift I could ever have and I wanted her very much to have the slippers. She nodded as though she understood and left with a smile. The richness that poured into my soul because of her gift was profound and shook me intensely.
She gave her everything when she had nothing. It humbled me to know that I did have many resources from which I was giving, and sometimes not so very cheerfully. She personified the beautiful woman whom the Lord commended for giving, not from her abundance but from her poverty. The gift was so powerful, that it twisted its gentle power deep into my heart and sent vibrations all over my being, leading me closer the greatest giver of al — Christ. I saw Christ in this child. I saw the suffering Christ and Christ the life giver all entwined into one. I saw his footprints clearly before me, to humble myself as a child to receive what he was willing to pour in. Care giving can be so work related that it can snap the very essence of serving with humility the Christ we worship. Yet, Christ often comes in guise to keep us humble and filled, sometimes in the child we encounter, or in the very depths of our soul, where a child waits to be acknowledged in humility to receive the fullness of Christ. This was the gift of the highest order which only the greatest in the kingdom can give. The truly humble child in whose soul Christ abides.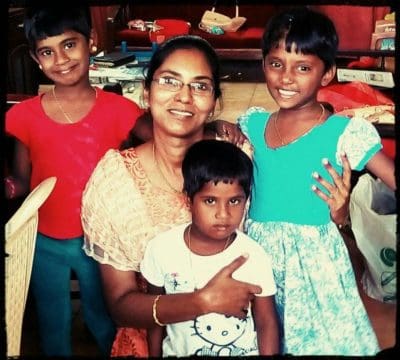 ABOUT ANGELENE:
Angelene was born and raised in the southern most state of India, Tamil Nadu. She was influenced by the work and dedication of her parents who were full time workers in Child Evangelism Fellowship for more than 15 years. She did her undergraduate studies in Psychology and post-graduate studies in Clinical Psychology. Meanwhile, her parents Patrick and Victoria, transitioned into work with WMF Chennai.
During her studies and her job as a lecturer in Psychology, she was constantly aware of the nudge that she had much more to do in life than teaching psychology. As Angelene began working alongside her parents with Word Made Flesh, she also worked as a counselor in the Phase I HIV vaccine trial — a project of the New York-headquartered International AIDS Vaccine Initiative — which was the first of its kind in India.
CONNECT WITH ANGELENE:
angelene.samuel@wordmadeflesh.org
Share this story