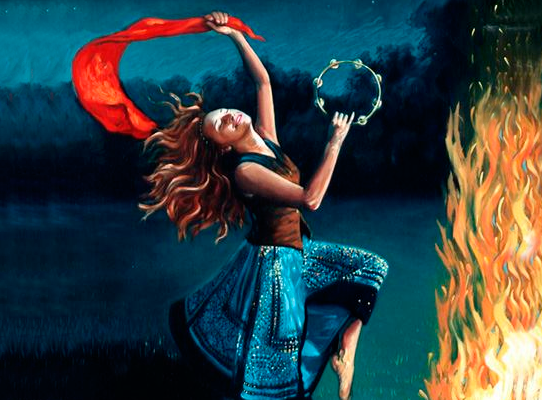 "God stand in this place! Settle in my heart, take Your place and come, reign in every corner of my heart,  be the Lord of my life, of my dreams, of my fears and my questions. May you be the center of everything, in every process, anoint my heart with your Holy Spirit, and pour Yourself out as oil that soaks and restores the deepest part of my being."
This has been my daily prayer over the last months.
Last January, God established Counseling as a place of restoration, promising that He would pour out into each person who enters that space. He only asked me to believe and pray.
Every day since January, I have been challenged to pray and pray. After a beautiful retreat of inner healing, I have witnessed what God has been manifesting in my life and in the lives of others involved in WMFB.
God gave me a name at that retreat, and told me that He would take me to deeper levels of intimacy with Him. He told me that I am His "Dancing Warrior," and I wondered, "Why?"
To what song are you dancing? I was dancing to the rhythm of my circumstances, my fears, my own lies, my impossibilities. But suddenly I realized that there was a song that was waiting for me, a melody inviting me to dance as a warrior, one to help me realize who I truly am. God has made me a restorer of broken purposes!
These new levels of deep intimacy with God, not only bring joy and freedom to my life, but it is also bringing something different to the people around me. I can see a team, united and focused, and women and children coming with curiosity for true change in their lives.
I have been embraced by His compassion and promises, and there is nothing that can change this Truth. I have committed myself to every day be someone who lives spilled out in front of Jesus. And it seems that this is the route, because honestly I have no map, but there is One who has the address.
God has filled us with gifts and hopes that we activate for His glory and purpose. Have you activated yours? Are you spilling yourself out at the feet of Jesus? Are you letting God tell you who you are?
There is still more. There are more people who need to be challenged, there are more purposes that have to be restored, there are more promises that need to be fulfilled.
Are you dancing to the rhythm of His song?
Reflection by Viviana Romero: WMFB Therapist, 2010-2011, 2015-present
Note: This photo is an original painting by Stephen Sawyer with Art 4 God. Much of his work, including this piece, is displayed throughout the WMFB ministry center.
Share this story