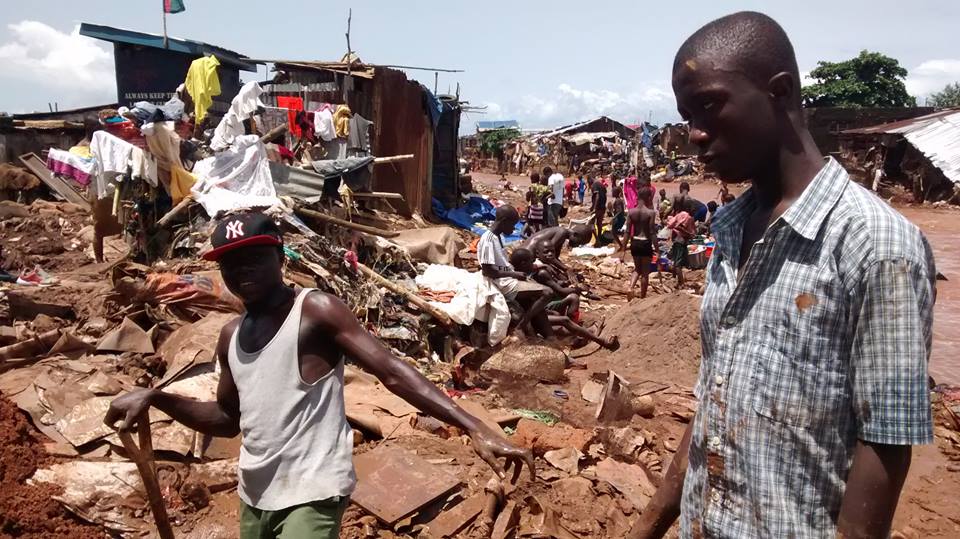 After the flooding on September 16, our staff and volunteers as well as our youth have been tirelessly helping out those who have been affected by the flooding in Kroo Bay.
The community of Word Made Flesh Sierra Leone provided up to 30 people with a place to sleep for over a week after the flooding. Most of them have now gone back to their own houses, but their properties have been lost or damaged. The government opened up the National Stadium to provide a place to sleep for those whose homes were severely damaged or destroyed.
We have continued to help with clean up, and distribute rice, water, clothing and school supplies. We have also used our community center to provide a place for people to hand-wash their clothes, which were soaked in muddy flood water, because no one in Kroo Bay owns a washing machine.
We have raised enough funds to purchase 200 mattresses, and plan to distribute them Thursday.
A majority of the school children in Kroo Bay lost their books and school supplies. We have provided school supplies to about fifteen children we work closely with, but there are still many children in Kroo Bay who need school supplies and we plan therefore to continue collecting donations.
Please continue to pray for our flooded neighbors in Kroo Bay, which has a population of over 13,000. A large number of its residents not only lost their homes but also their small businesses due to the flood. Please pray also for our Word Made Flesh community as we discern how best to support our neighbors. We are grateful for those who have given generously to the flood relief!
Click here to support Flood Relief in Sierra Leone
Share this story