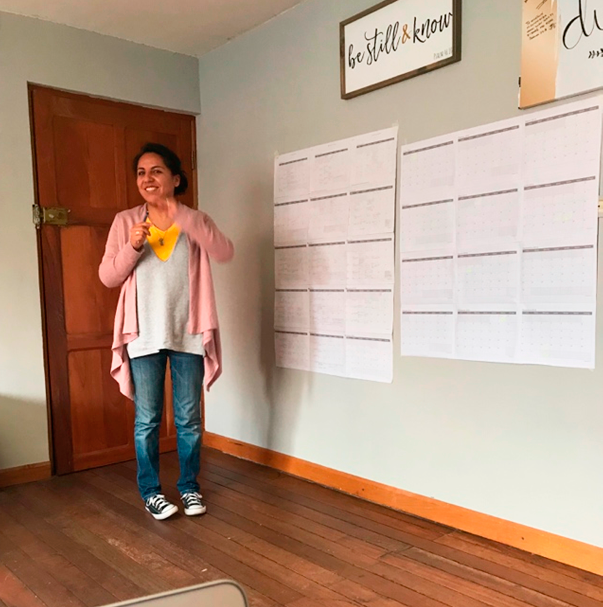 When we say 'Highlights of Summer' – we're keeping in mind our North American readers!  June, July and August are chilly months in Bolivia, but also a great time of ministry growth.
June:
This first half of 2018 saw immense growth in our women's and kids' programs and in order to celebrate and encourage consistency, a new program was implemented where women could earn points through attendance, punctuality, or bringing a friend. With the points accumulated, they can purchase clothing from our in-house sale (of donated items) for their families or resell goods for alternative income. We hung a banner that read, "Celebrating Your Presence" for the sale, and 26 women came out to participate.
July:
On July 21st, we were able to take 18 moms and 34 of their children (children, adolescents, and some adult children) to a local park for a family outing. The purpose was to create a space where moms and children could bond and spend quality time together, which happens seldomly given the chaos of most of their lives. We sent each family around the park on a photo scavenger hunt, and it was so meaningful to see them working toward a common goal, using their creativity, laughing, hugging, and goofing around the park.
August:
One of the great themes of the month was witnessing the significant growth in women participating in our 12-week intensive course, designed for those ready to leave prostitution. A spiritual retreat was formational in this, where the intensive course participants as well as other women who have moved through the restoration process were able to participate with their children in a retreat centered on connection with Christ as our ultimate Restorer. In this month, a group of women also completed a 10-week therapeutic, trauma-focused program and to our joy, each woman showed unprecedented growth.
Share this story