As we reflect on this lifestyle celebration, we invite you to explore some of our staff top picks from media and resources that focus on intimacy.
---
READ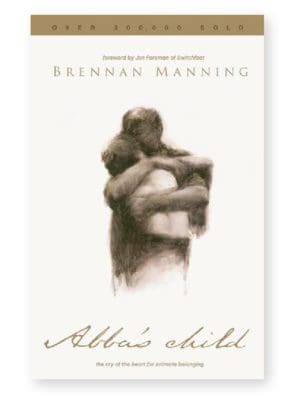 Brennan Manning presents the idea that we tend to hide behind an "impostor" — a mask we put on to show the world and God that we are perfect, believing that this is the only way to be loved. This appears to work when life seems to be going well, but when difficult circumstances arise we are often exposed or left with broken identities. In Abba's Child, Manning calls us to put away these masks and to be fully known by God and others, positing that such vulnerability is the only way to receive our true identities as God's children and live fulfilled lives.
Click Here to Purchase this book on Amazon
---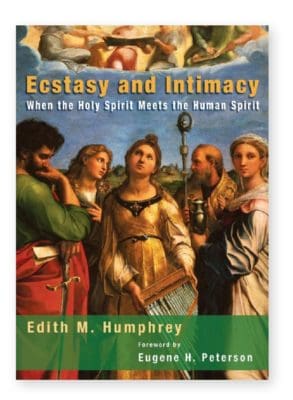 EDITH HUMPHREY offers an authentic Christian spirituality rooted in the Trinity, in the ecstasy ("going out" of oneself) and intimacy (profound closeness with another) marking the relations between Father, Son, and Holy Spirit. Laced with narratives from her own life and backed with Scripture and texts from the Christian tradition, Ecstasy and Intimacy uncovers the ways in which God's intimate, trinitarian life informs all human communion.
Click Here to Purchase this book on Amazon
---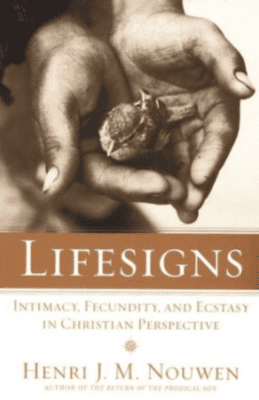 HENRI NOUWEN, in his now classic work "Lifesigns," explores what he saw as three of the most vital aspects of his ministry. The first of these is the Gospel invitation to intimacy, which Nouwen describes as communion with God and relationship with others. The second is the call to fecundity, exhorting us to be open to a fruitful life of change and growth. And the third, the experience of ecstasy, extends the Gospel promise "that your joy may be full."
Click Here to Purchase this book on Amazon
---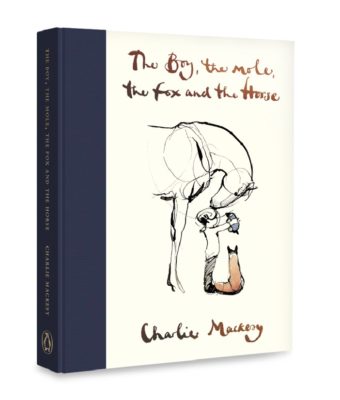 Charlie Mackesy offers inspiration and hope through the unlikely friendship of the 4 title characters — The Boy, the Mole, the Fox, and the Horse.  Written in the vain of The Giving Tree and The Alchemist, Mackesy's new book is childlike and explores the poignant, universal lessons we learn when we do life together in intimacy. You can look out for the book's release in October 2019.
Click Here to Purchase this book on Amazon
---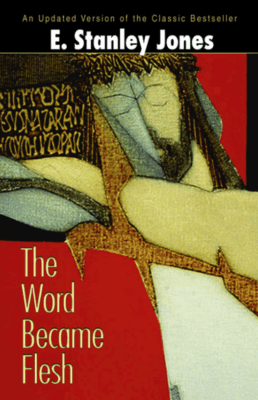 E. STANLEY JONES is one of the most influential missionaries/theologians of the twentieth century. His book The Word Became Flesh includes 364 daily devotionals revolving around John 1:14 and its meaning for a transformed life. From his wide experience with world religions and contact with believers across the globe, E. Stanley Jones explains the difference between Christianity (in which God reaches toward humanity through Jesus Christ) and other faiths (in which humanity reaches toward God in various ways).
Click Here to Purchase this book on Amazon
---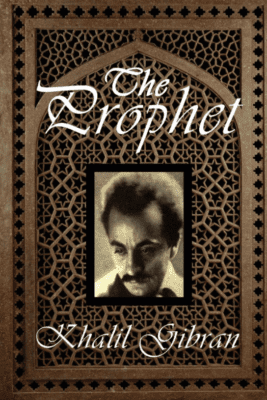 KAHLIL GIBRAN was a Lebanese-American artist, philosopher and writer most known for his work, "The Prophet", a book of 26 prose poetry fables. The prophet, Almustafa, has lived in the foreign city of Orphalese for 12 years and is about to board a ship which will carry him home. He is stopped by a group of people, with whom he discusses topics concerning life and the human condition. Topics include: love, marriage, children, freedom, reason and passion, pain and self-knowledge, among others.
Click Here to Purchase this book on Amazon
---
OBSERVE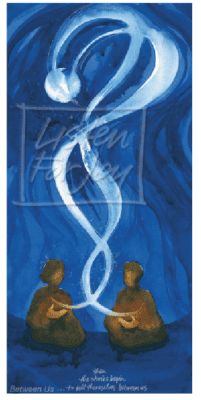 Reflection by Clint Baldwin, WMF Executive Director
The painting "Between Us" by Melanie Weidner portrays heart-shared stories intimately connecting people while weaving heavenward-like sacred incense.  C.S. Lewis in The Four Loves wrote, "Friendship…is one of those things which give value to survival."  The Celtic church in Gaelic called the deepest friendship anam cara (soul friend).
The Holy Spirit is our ultimate Anam Cara.  Guided by the Comforter and wanting to "give value to survival," let us seek to cultivate friendships inspired by Jesus' words in John's Gospel, "…Love each other as I have loved you. Greater love has no one than this: to lay down one's life for one's friends. You are my friends…"
---
CONTEMPLATE
Jeanne Guyon (1648-1717), from " A Short and Easy Method of Prayer" (1685)
"What is prayer? Prayer is a certain warmth of love. ah but much more. Prayer is a melting! Prayer is a dissolving and an uplifting of the soul. This warmth of love, this melting, this dissolving, this uplifting causes the soul to ascend to God. As the soul is melted, sweet fragrance begins to rise from it. These fragrances pour forth from a consuming fire of love…and that love is in you. It is a consuming fire of love in your innermost being, a fire of love for God."
---
WATCH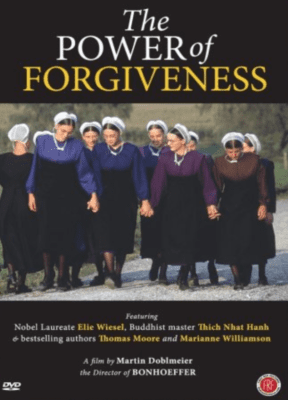 THE POWER OF FORGIVENESS
To forgive someone can be simple. But this simple act can have powerful consequences – and may lead to personal and spiritual transformation. Recently, the study of forgiveness has come into its own. Researchers are examining the psychological and physical effects of forgiveness under an amazingly wide variety of conditions, ranging from petty insults to sexual assault to 9/11. Clinicians now help guide people to forgive transgressions and get on with their lives. From Ground Zero to Northern Ireland to the Amish countryside, The Power of Forgiveness explores this important concept, and reveals how forgiveness can transform your life.
---
LISTEN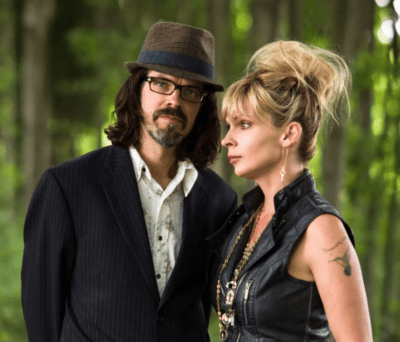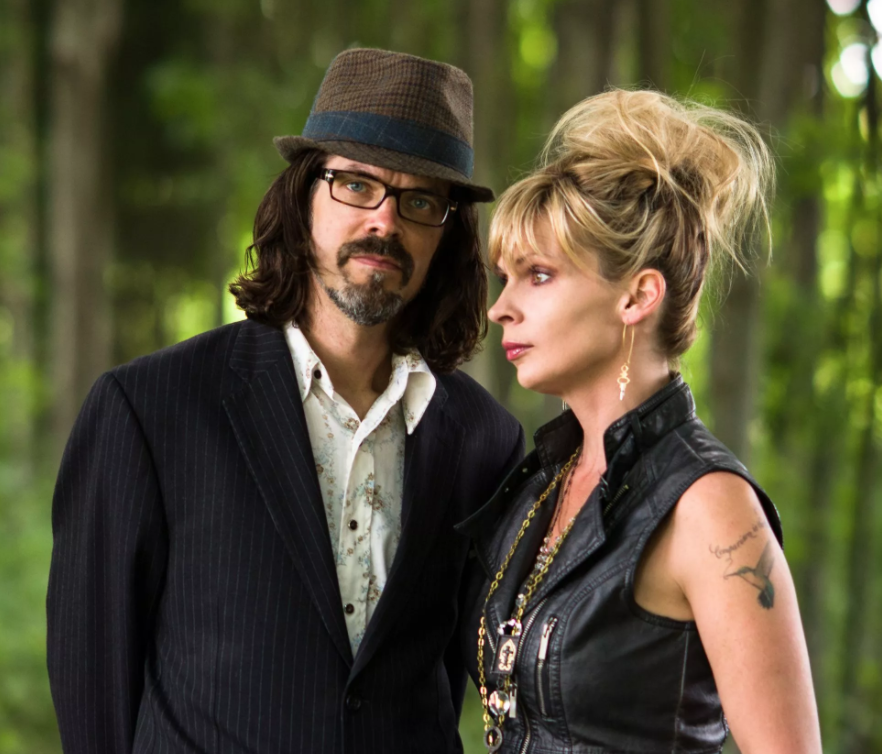 OVER THE RHINE is an Ohio-based folk music band, the core of which is the husband-and-wife team of pianist/ guitarist/bassist Linford Detweiler and vocalist/guitarist Karin Bergquist. They have been around since 1991 and are still making music today. There is an intimate quality to their music, coupled with deeply meaningful lyrics — a combination that gives us a unique listening experience. Check out their album, "The Long Surrender," considered by many critics to be one of their top offerings.