It's September in Kroo Bay, an expansive area located on the coastline in central Freetown, the capital city of Sierra Leone. Home to more than 6,000 people, this community is primarily made up of makeshift structures pieced together from bits of scrap metal, sticks, garbage, and mud.
The neighborhood lies at the bottom of a large hill and at the nexus of two rivers. Flooding is a normal part of life here. Often, these floods lead to respiratory diseases, Malaria, and other serious health concerns, all of which contribute to the devastating fact that the average life expectancy here is less 40 years of age.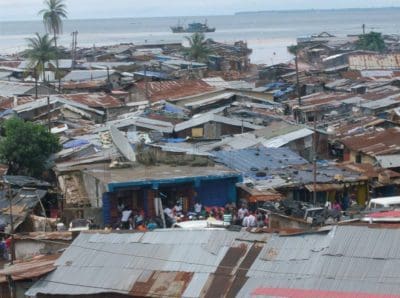 It's the heart of rainy season, an especially difficult time for those living in Kroo Bay. Each year –beginning in June and lasting until November — enormous coastal storms pour more than 125 inches of rain onto these streets.
Last year, we watched friends and neighbors flee from their homes as the floodwaters washed away their property. We wept as we witnessed a man carrying two children instantly lose his life as he was hit by an electric cable. Yet, in the midst of the chaos, we spent time praying with those who were worried and mourning with those who were mourning.
As the floodwaters began to subside WMF Sierra Leone offered up our staff and volunteers for flood cleanup. We distributed rice, water, clothing, and school supplies. We gifted over 200 mattresses to local families who were in need of a dry place to sleep. We opened our community center as a temporary shelter for 30 people who were without a place to stay, and we invited the community in to use our space as a makeshift laundromat for washing and drying clothes.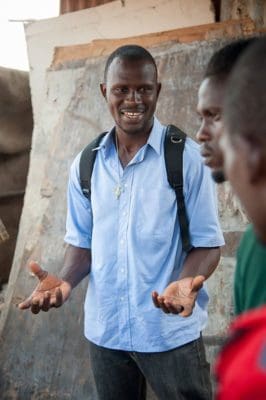 In June of this year, we gathered our team and began preventative work in an effort to reduce future flooding. Our staff and some of the young men from Kroo Bay used hand tools like long knives and axes to clean up sewage canals and waterways filled with waste and dirt. We also helped repair some damaged homes with cement and zinc sheets.
As we continue to learn what it means to rejoice with those who rejoice, and mourn with those who mourn, we are grateful that we as a community had an opportunity to show our love for our neighbors during the challenging flood-times.
How are you mourning with those who mourn? How are you rejoicing with those who rejoice? Leave your comments below.