New Adventures And Old Themes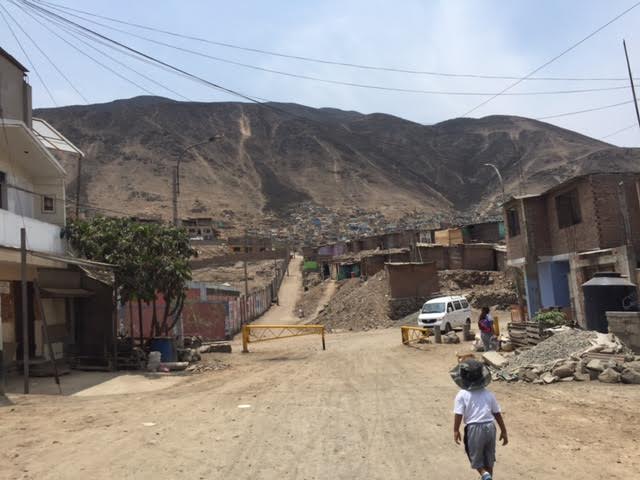 Greetings from Lima Peru!
It is my sincere hope to encourage you with this update on the happenings in Word Made Flesh Peru in 2016, and our plans for 2017.
As it happened, 2016 was fraught with many challenges, and yet, I still see God showing His care and provision for the ministry at every step. I never get used to seeing how God works as we follow Him to change lives. It is a beautiful and encouraging surprise.
Let me share an update on the ministries of WMFP, with the hope that it will inspire the church to bring these circumstances to the feet of God in intercession and thanksgiving.
WMF Peru on the path to increased self-sustainability:
Praise God, at the end of 2016, we were able to purchase 3 properties! This all from the sale of the large ministry center we bought at a low market price and were able to sell for 4 times our investment. Two of the properties (an apartment and an office) will be rented out to generate funds for the ministry, and the third is an office that we will use for programs. After getting it fixed up and our operating license ready, we will get to settle in after spending nearly two years without our own workspace.
We are excited and hopeful as this is an important step in generating our own sustainable funding!
Changes in the Student Support Program:
We are happy to share that many of our families graduated from the program in November 2016!!! We can say with gratitude to God that most of the families in the student support program have embraced their rights and responsibilities as members of Peruvian society, More importantly, they know and believe in the power of God and the Hope of Jesus and find their value in Him.
These parents and guardians have learned to value their children and their education as well as their need for sound counsel and community. This program has helped more than 37 children stay in healthy homes and has been vital in providing tools for their parents to make healthy choices. There are only 9 families who are still in this program because of continued need, and we are hoping they will also graduate soon. We are changing the name of this program and combining it with some others under our "Integral Family Care" or in Spanish, "Cuidado Integral Familiar " or "CIF". These students and their families will continue to receive, as funds are available:
 Backpacks with school supplies – (Only $40 buys a kid a backpack full of school supplies – Donate )
 Home visits (we will bring some food staples to these visits)
 Access to mental health professionals
 Monthly educational and parenting workshops
 Help with finding a local church body where they can commit
 Yearly retreat/conference
As difficult as it is for us to release these families from programming, (but of course, never from friendship) we have learned through many years of experience, that as they grow and learn to trust and depend on God, we must let them go or risk developing an unhealthy dependence. It is in love and friendship that after providing the tools we have to give we release them knowing God will continue to be present to them and will continue to grow them according to His will.
Additionally, we were able to host a group of other mission practitioners working with vulnerable populations. It was a wonderful time for connections and sharing of resources. We are putting together a team of volunteers who are passionate about ministry among the marginalized here in Lima. We are hoping to include mental health professionals as well as teachers, and counselors on our team. Pray with us for God to help us make connections.
New explorations of an old theme
In 2017, we are being led to respond to an old call in a new way as the ministry grows and changes. We have an increasing passion to partner women who are working in the sex trade and their vulnerable children. This new avenue has opened up literally on the same street where WMFP began in 2000, and we have seen a thirst for Jesus and a desire for community. We long to respond to this leading by embracing and empower these families.
We hope to develop both an intervention project and a prevention project with these families.
Our prevention project will address the areas of extreme poverty in the outlying districts of Lima; areas with little or no access to basic services and where large numbers of children are at risk of neglect, violence, and abuse. This is an arduous and challenging task, and we trust that God will provide if He is asking us to move forward with this in obedience.
The intervention piece would focus on the red-light districts where women and children are being exploited and abused. Praise God, we have a long time friend (a parent of a graduated student in the support program) who has opened doors to allow us a time and space to already begin initial conversations with some of these women and children. We hope to intervene on behalf of children who, sadly, witness daily the work of prostitution in their neighborhood and homes, including their mothers. We hope to begin by working with these women, opening opportunities for dialogue, guidance and new Life for them. This is a difficult and risky task, but we are convinced that God has prepared the ground for it now.
In both the old and new endeavors we will need both prayer and financial support.
Please pray with and for us as we enter into new challenges and faithfully commit to the work of redemption for the glory of God. We are grateful for your prayers and your financial support in the past and hope our partnership will thrive and grow as we walk in obedience.
With gratitude to God for the work he has done, and with humility and vulnerability, we rest in His protection and provision.
Grace and peace,
Anna Monteviller Pino
National Director Word Made Flesh Peru
Share this story