Thank you for Giving to the Blessed to be a Blessing Campaign!
By Anna Monteviller
WMF Peru Field Director
It was practically inevitable that the Covid-19 lockdown in Peru would have a huge impact on workers and their families- about ¾ of the local economy is driven by those working informally. This unfolding new reality spurred us to reconnect with people who had been part of Palabra Hecha Hombre's programs in years past. What happened next are inspiring acts of solidarity and a "Good Samaritan" spirit where our friends who had suffered so much in their childhoods living on the street were now organizing and distributing resources to help their neighbors in need.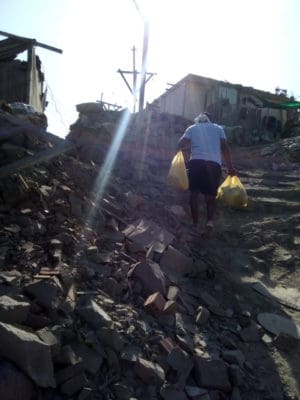 We created the Blessed to be a Blessing campaign as our friends were able to compile a list of approximately 150 families in their respective neighborhoods who were facing acute food insecurity. Many day laborers and venders have been forced to not work, essentially forced to not generate any income, due to the mandated stay-at-home orders.
Each day was bringing more examples of solidarity but also stories of great suffering and tragedies behind the closed doors of their neighbor's homes.
One of the first neighborhood groups contacted contained three families all of whom had a differently abled child. One family in particular has a child with a severe condition requiring constant attention and resources. The mother started weeping when she realized that all the bags of groceries that our friend Maribel placed on her table were for her household. One of the other women in that neighborhood found out that she was going to receive the Peru government's stimulus payment (equivalent to two weeks of minimum wage labor) and then returned her donated bag of groceries so that another family in greater need could receive it. This is no small gesture of generosity in an area with no public infrastructure where most homes do not have city water nor electric service.
At the end of one particularly long day of phone calls and coordinating logistics of the campaign, one last call came in. Our friend was crying on the other end. One of her neighbor's had a son who suffered from seizures and when she arrived at their door to deliver the groceries, she noticed the boy's face was bloodied because he had repeatedly banged his hand against the ground while seizing. She called me after the seizure calmed down and asked if we could pray together. So, we prayed.
In the background I could hear the boy's mother softly crying.Their seizure medication had run out and they had no money to purchase more. To make their situation even more difficult, the enforced curfew meant that even if they had money, the pharmacies would have been closed and no more medicine could even be purchased until the following day. I then had the opportunity to pray with the boy's mother over the phone. That was very difficult for me because I knew that without medicine the boy was most likely going to have another seizure later that night. We made the decision to use some of the funds from the campaign to transfer enough money to this mother so that she could purchase seizure medicine for her son the next day. The boy's name is Daniel. He did have a seizure later that night, although the next day his mom purchased his medicine and he was able to play and eat like normal.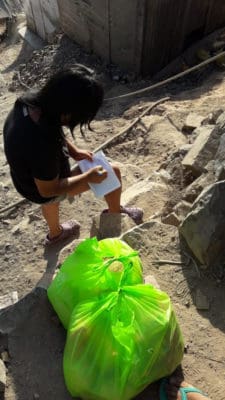 This campaign did not start out to specifically respond to acute medical needs but in cases like this we decided the best thing to do was to remain flexible. Your donation not only brought immediate and  emergency food aid to some of the poorest families in Lima, but it helped spark an outpouring of solidarity among neighbors. Your donation helped provide emergency seizure medicine for kids like Daniel. I have begun asking myself, "How are children like Daniel, children who are hungry and whose families have great needs, understanding this pandemic?"
In another high poverty neighborhood called Pachacutec, our friend Mery and her son Henry mobilized a very effective registry and evaluation of their local needs. At one door that Henry knocked on, with his bag of groceries slung over his shoulder, a very surprised woman answered. She had received a call from Mery and Henry the day prior announcing that they were taking down names in order to distribute food aid. And it was actually happening! The woman received the groceries and Henry felt someone hugging his leg. He looked down and it was the woman's daughter hugging Henry's leg with all her light.
This little girl knows very well what this pandemic means right now. No money and no food. Maybe she will also remember in a powerful way that we should help each other in times of need. In that same neighborhood of Pachacutec, one of our friends Jerson, a street musician, helped lead our community organizing effort through this campaign. We had previous contact with seven families, all teenage street
musicians. So we first committed to helping those families. But Jerson shared with us that there were many more families living in the same building who had no food. After we received confirmation of additional donations to our campaign, I was able to share with Jerson that those six additional families were also going to receive a bag of groceries. All of those families had both young children and elderly relatives living together in one room.
These are just a few of the testimonies of how your support for this campaign was providential and came at just the right time. We received many letters and video messages of gratitude and we want you to share in that.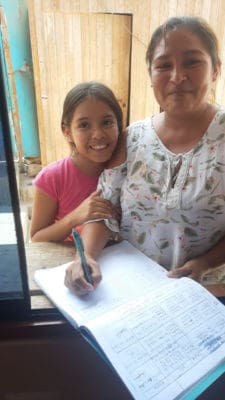 I think it's also important to consider how this campaign unfolded. I personally have never met many of the families who received help during this campaign. But you know who does know them? It is all the amazing young men and women who participated in Palabra Hecha Hombre's programs at one point. I like to believe that their desire to show compassion to their neighbors is a fruit of what they experienced in our community's programs. They were blessed, now they are being a blessing to others.
I humbly and deeply thank you for your support and your solidarity with us. You will forever be part of the life story for hundreds of the poorest families in my city. Over 500 people were touched through this campaign. And during this lockdown and state of emergency, you helped them experience a little less anguish, a little less hunger, and a lot of divine grace and compassion for and from their neighbors.
I invite you to keep journeying with our community. I hope you were also blessed as you supported this campaign. Please continue to pray for our country and for those most in need, and for resources of all kinds as we will continue to seek taking new steps of faith together with our most vulnerable neighbors.
Take care,
Grace and peace,
Anna Monteviller
Share this story